---

[ Wesleyan Home Page ] [ WesMaps Home Page ] [ WesMaps Archive ] [ Course Search ] [ Course Search by CID ]


Academic Year 2002/2003



---
United States Foreign Policy
GOVT 311 FA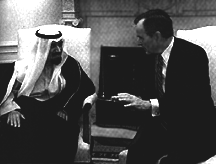 This course provides a survey of the content and formulation of American foreign policy with an emphasis on the period after World War II. It considers the sources of American foreign policy including the international system, societal factors, government processes, and individual decision makers. The course begins with a consideration of major trends in U.S. foreign policy after World War II. With a historical base established, the major institutions and actors in American foreign policy are considered. The course concludes with an examination of the challenges and opportunities that face U.S. decision makers in building a new approach to foreign policy and coping with the post-September 11 context. A significant component of the course is the intensive discussion of specific foreign policy decisions. It is assumed that students have a basic understanding of the American system of government. A significant component of the course is the intensive examination of significant foreign policy decisions.
MAJOR READINGS
Stephen Ambrose and Douglas Brinkley, RISE TO GLOBALISM, 8th revised edition
Ralph Carter, ed., CONTEMPORARY CASES IN U.S. FOREIGN POLICY: FROM TERRORISM TO TRADE
EXAMINATIONS AND ASSIGNMENTS
Midterm, research paper and final.
ADDITIONAL REQUIREMENTS and/or COMMENTS
Students who wish to be eligible to register for the course during Drop/Add should place themselves on the wait list during on-line registration. Wait list preference rankings will be one factor I will consider in making Drop/Add period registration decisions. I will contact those registered for the wait list with further information on adding the course.

Unless preregistered students attend the first class meeting or communicate directly with the instructor prior to the first class, they will be dropped from the class list. NOTE: Students must still submit a completed Drop/Add form to the Registrar's Office.

COURSE FORMAT: Lecture/Discussion
REGISTRATION INFORMATION
Level: UGRD Credit: 1 Gen Ed Area Dept: SBS GOVT Grading Mode: Graded
Prerequisites: GOVT155 OR GOVT151
SECTION 01
Instructor(s): Foyle,Douglas C.
Times: ..T.R.. 10:30AM-11:50AM; Location: BTFDA414

Reserved Seats: (Total Limit: 25)
SR. major: 13 Jr. major: 12
SR. non-major: Jr. non-major: SO: FR: X

Special Attributes:
Curricular Renewal: Speaking, Writing
Links to Web Resources For This Course.
Last Updated on MAR-18-2003

---
Contact wesmaps@wesleyan.edu to submit comments or suggestions. Please include a url, course title, faculty name or other page reference in your email

Copyright Wesleyan University, Middletown, Connecticut, 06459